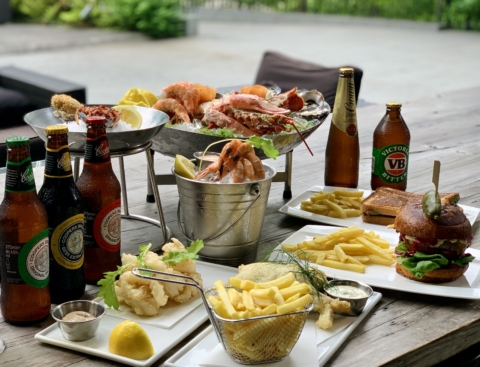 ENJOY "BONDI" – SYDNEY'S MOST POPULAR BEACH ON THE RUBY JACK'S TERRACE!
This Summer, the Bondi Summer Terrace, a terrace promotion where you can enjoy special food and drinks inspired by the Sydney open beach culture, will be held at Ruby Jack's.
We will be serving popular Australian local beers, organic apple cider, wine, etc., along with popular
beach scene items such as "Bucket of Prawn" "Fish & Chips" "Fried Calamari" all done in the RUBY JACK'S style!
「BONDI SUMMER TERRACE」
Period:Friday June 30 - Saturday September 30
Time:16:00~21:00(20:00 L.O.) {Weekends & National Holidays 15:00~}
Venue:RUBY JACK'S terrace area
MENU